10.08.12SOUND SHAPES IS OUT. IT IS MAGIC.
This week our best pals QUEASY GAMES released SOUND SHAPES for PSVITA and PS3 in North America. The game already has a crazily-high metacritic, over a thousand user generated levels & counting, and tons of fan love.
It is important to note how significant of an achievement SOUND SHAPES is; It is a hand-crafted collection of musical compositions that wed beautifully and vividly with the separate worlds of traditional gaming and visual art. But perhaps more importantly, it is a tool by which anyone can, within minutes, create imaginative and fun levels. It is also an instrument with which anyone can, within minutes, create beautiful music. Taken together, Sound Shapes is a joy-inducing gift to gamers, allowing anyone to create fully-realized and idiosyncratic worlds of musical fun to share with others. How cool is that?
We're not just posting about SOUND SHAPES because we love it (although, we do dearly). We're also posting because we helped make it. Capy's own Vic Nguyen (co-creator & artist of SUPER TIME FORCE) provided all the art for the game's first album, Hello World. Designer/Writer Dan Vader worked as a level designer on the game for nearly two years, and was later joined by Greg Georgiadis. Together, the two Capy designers worked closely with Jon Mak & Mathew Kumar to sculpt the games' albums/tracks. Nathan Vella provided Queasy dudes Jon & Shaw-Han assistance producing and managing the project, while QA Lead Christian Meyer came on at the tail end to lend his testing expertise.
We are so happy to have been able to help our friends achieve their vision, and we're ultra-mega-proud to have played a role in SOUND SHAPES.
Now go get it and make something cool!
10.08.12CAPY = TOP 30 DEVELOPER \(◎o◎)/!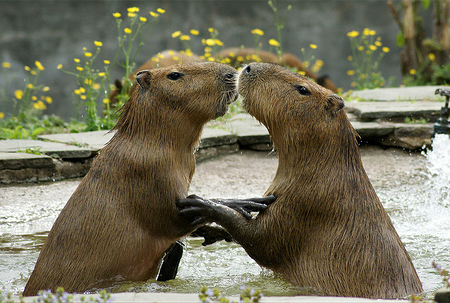 Gamasutra just released their yearly
TOP 30 DEVELOPERS
list… and we're f-ing on it, yo! That shit so cray…
No but seriously, that shit IS crazy and we're really honored. Here's hoping we can live up to the praise 'cause everyone else on that list is actually REALLY good and now we're kinda freaking out over here. Why did you do that to us, Gamasutra? GAd!

06.07.12SUPER TIME FORCE VS. STREET FIGHTER!
If you're at
EVO
this weekend, you should probably go play some
SUPER TIME FORCE
at the
EVO INDIE SHOWCASE!
And… you should also find
Nathan Vella
and shoryuken his face!
You should also probably download this unbelievable amazing
SUPER TIME FORCE VS. STREET FIGHTER DESKTOP
, created by
Vic
and
Mike Nguyen!
22.06.12#スキムス + REMIX ALBUM RELEASED!
Superbrothers: Sword & Sworcery EP, known as スキタイのムスメ:音響的冒剣劇 (sukitai no musume: onnkyouteki boukenngeki) in Japan, is now available as an update for iOS & Steam.
BUY ON IPAD, IPHONE OR IPOD TOUCH
BUY ON STEAM
Capy, Superbrothers & Jim Guthrie teamed up with our good friends & purveyors of the best localizations 8-4 to bring #Sworcery from west to east. From the start it was a passion project. Our passion was to see our game launched with love in the country & language of so many games that inspired & motivated us. For 8-4, the passion was both for #sworcery itself, and for showing Japan the type of collaborative DIY games that are being made in the west.
Alongside the game, we are releasing The Scythian Steppes: Seven #Sworcery Songs Localized for Japan featuring remixes of Jim Guthrie's magical soundtrack by superhero caliber All-star Japanese composers like Akira Yamaoka, Michiru Yamane, and Baiyon.
For fans of game audio and Japanese videogame music it's truly an amazing collection of songs. Proceeds from the album will go to 8-4 to help cover the localization costs for this passion project, so get over to bandcamp & pick it up!
8-4 have been the best of collaborators and friends throughout the whole project. We would like to thank them from the bottom of our hearts for the hard work, great ideas and unending drive to see #sworcery in Japan done right.
31.05.12HUMBLE INDIE BUNDLE V!!!!!!!!!!!!!!! #SWORCERY


Holy Smokes!
Superbrothers: Sword & Sworcery EP is part of the latest
Humble Indie Bundle
, along with
LIMBO, BASTION, PSYCHONAUTS and AMNESIA!
We're super crazy pumped and we're drinking tons of coffee and freaking out! AAAAAA!!!!
HUMBLE INDIE BUNDLE V
All of these games are available for PC, MAC and LINUX and are DRM-Free + redeamable on Steam and the Mac App Store! And on top of all that, you also get the soundtracks! IT'S A PAY-WHAT-YOU-WANT-EXTRAVAGANZA!!!!!
Help us spread the word and enjoy the games!
22.05.12#スキムス – SWORCERY COMES TO JAPAN
For more info, check out the official press release from our friends at
8-4:
#SWORCERY COMES TO JAPAN
#スキムス Info:
sukimusu.jp/
Remix Info:
www.sworcery.jp/remix/