20.09.12SUPER TIME FORCE + FANTASTIC ARCADE
BEHOLD!
Fantastic Fest is upon us once again!
And along with it, a brand new, totally sweet
Fantastic Arcade
, featuring our very own
SUPER TIME FORCE
in a hella sweet ARCADE CABINET!
If you're in Austin this weekend, find
Kenneth Yeung
and ask him for SUPER TIME FORCE Pro-tips!
For more info, check out
this article
on
VENUS PATROL
.
KOOKABUNGA!
06.09.12CRITTER CRUNCH HITS STEAM, MAC + PC!
We're barftastically happy to announce that Critter Crunch, that crazy little arcade puzzler (and parenting sim?) made by the loving folks at CAPY AKA US, is now on STEAM.
Critter Crunch arrives on Steam for both PC and Mac, and includes a pile of Steamworks features, all the beloved (and uber-competitive) online modes, and of course, beautifully hand drawn & hand animated 2D art + sweet technicolor barf.
And even better, it's $6.99.
BUY CRITTER CRUNCH ON STEAM TODAY!

30.08.12KOOKABUNGA! NEW SUPER TIME FORCE TRAILER!
Hey SUPER FRIENDS, check out this new SUPER TIME FORCE trailer… just in time for PAX!!!
Speaking of PAX, you should come play our crazy new demo at BOOTH 872, in the Indie Megabooth!
WHO MADE THIS CRAZY THING, THOUGH???
Kelly Smith
did all of the killer character designs and pretty much all of the crazy sweet animations for the STF Saturday morning cartoon portion of the trailer. This means she basically did everything. It's kinda crazy, actually.
Qiqo
painstakingly designed and detailed all of the backgrounds and helped with animations.
Anthony Chan
animated and designed the John K-esq STF commercial, with help from Qiqo. Totally gross, bros!
Sean Lohrisch
rocked all of the music and sound effects, and surprised everyone with the STF theme song, featuring vocals by Sean Lohrisch. The whole thing was written by
Dan Vader
,
Kris Piotrowski
,
Matt Repetski
and the entire STF team.
Nathan Vella
did all the editing from his hotel room in Seattle. And lastly, the sweet voice acting was delivered by a mysterious group of unmentionable superfriends +
Kris Piotrowski
as the voice of Zackasaurus. KOOKABUNGA, BROS!!!
28.08.12SUPER TIME FORCE @ INDIE MEGABOOTH!
PAX PRIME IS NIGH!!!!!
Once again, CAPY is super pumped to be a part of the
Indie Megabooth!
What's an
Indie Megabooth
, you say?
"The Megabooth brings 30 of the most creative studios together in one place. They're showing off 32+ titles, making it the highest concentration of inventive, quirky, great games and game studios on the entire PAX floor"
Meaning, the
Indie Megabooth
is
by far
the highest concentration of superfun you can have in/with the least amount of conference floor space! So if you're heading to PAX this week,
why doncha mosey on over
and play the newest demo of
Super TIME Force
+ 30 other crazy sweet games!
While you're there, say hello to Capy-folks
Kenneth Yeung
,
Mike Nguyen
,
Nathan Vella
and
Dan Vader!
And stay tuned to our blog for more exciting STF madness…
10.08.12SOUND SHAPES IS OUT. IT IS MAGIC.
This week our best pals QUEASY GAMES released SOUND SHAPES for PSVITA and PS3 in North America. The game already has a crazily-high metacritic, over a thousand user generated levels & counting, and tons of fan love.
It is important to note how significant of an achievement SOUND SHAPES is; It is a hand-crafted collection of musical compositions that wed beautifully and vividly with the separate worlds of traditional gaming and visual art. But perhaps more importantly, it is a tool by which anyone can, within minutes, create imaginative and fun levels. It is also an instrument with which anyone can, within minutes, create beautiful music. Taken together, Sound Shapes is a joy-inducing gift to gamers, allowing anyone to create fully-realized and idiosyncratic worlds of musical fun to share with others. How cool is that?
We're not just posting about SOUND SHAPES because we love it (although, we do dearly). We're also posting because we helped make it. Capy's own Vic Nguyen (co-creator & artist of SUPER TIME FORCE) provided all the art for the game's first album, Hello World. Designer/Writer Dan Vader worked as a level designer on the game for nearly two years, and was later joined by Greg Georgiadis. Together, the two Capy designers worked closely with Jon Mak & Mathew Kumar to sculpt the games' albums/tracks. Nathan Vella provided Queasy dudes Jon & Shaw-Han assistance producing and managing the project, while QA Lead Christian Meyer came on at the tail end to lend his testing expertise.
We are so happy to have been able to help our friends achieve their vision, and we're ultra-mega-proud to have played a role in SOUND SHAPES.
Now go get it and make something cool!
10.08.12CAPY = TOP 30 DEVELOPER \(◎o◎)/!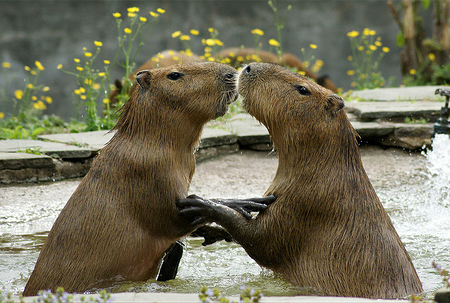 Gamasutra just released their yearly
TOP 30 DEVELOPERS
list… and we're f-ing on it, yo! That shit so cray…
No but seriously, that shit IS crazy and we're really honored. Here's hoping we can live up to the praise 'cause everyone else on that list is actually REALLY good and now we're kinda freaking out over here. Why did you do that to us, Gamasutra? GAd!